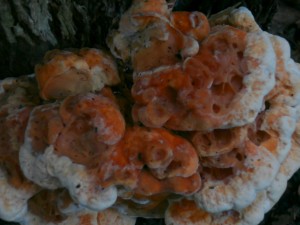 Seasons in the Bay Area may not differ as dramatically as they do back East (nod to the current nor'easter/hurricane combo), but each has its own distinct personality.  And here in the Berkeley hills Autumn marks the beginning of mushroom season.
I spied this beauty sprouting from the bark of a eucalyptus tree—it's about the size of a baby pumpkin, too!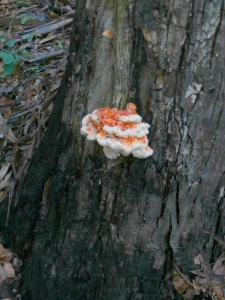 And, deepening the meme of nature imitating nature, this mushroom is also reminiscent of brain coral. Nice riff, mycelia…
I love walking certain trails year round, getting to know the critters that surface and hibernate, the plants that bloom and wither, all in concert with the seasons. And I'm especially grateful for the intimacy with nature that allows me to know:  Ah, we're about to enter California poppy season, or, Let's be mindful where we step; it's traveling season for the banana slug.
This year my first sighting of Mushroom Season was spectacular. Jutting from a eucalyptus tree, this creamy, scallop-edged dazzler formed a shelf so big you could have set a salad plate on it!  
What might you see on the trail?  Keep your senses open and the possibilities are infinite.  And remember, my Wellness Walks are not only about perambulating in nature. As your Wellness Ally, I'll be guiding you to the physical and emotional practices that make for a happier, heathier life.
Every Wellness Walk is an opportunity to find your self as you discover your world.